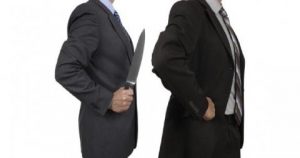 Based on recent happenings worldwide, the word Loyalty has been surfacing; and this we need to take a closer look at what loyalty really is about.
The world's way and God's way of looking at loyalty are two different ways. The world only shows loyalty if there is a benefit attached to it. For God, loyalty has nothing to do with any benefits attached.
Lamentations 3: 22-24 says, "Through the Lord's mercies we are not consumed, because His compassions fail not. They are new every morning; Great is Your faithfulness. "The Lord is my portion," says my soul, "Therefore I hope in Him!"
Even where people's loyalty shift from God because of the changes in their life's circumstances – whether you get rich or adversity hits your finances, God still remains loyal to us, He gives us new mercies each morning. The song 'Great Is They Faithfulness' comes to mind. If you want to know what loyalty is, even in Christian leadership, see who sticks with you when adversity hits.
Loyalty should not be based on what can be gained in a relationship or whether a person likes you or not, true loyalty comes without condition. Be loyal to god first, and to your country, your leader, and your relationships. Loyalty is not just a word it is a lifestyle that you ought to choose.
There are those who say they are loyal to God, but are unfaithful in their service to Him, in seeking Him, in their giving unto Him and walk away when they don't get what they want from Him. Being loyal to God means you respect His position/decision on a matter, and also that you will follow His principles and instructions on an issue. Some say they are loyal to their spouse, but as soon as there is disagreement, they walk away from the relationship or cheat on their spouse.
Even where a person and their leader/boss have a falling out, they must remain loyal in confidentiality, because confidentiality is a principle connected to our moral values and if we do away with that, then it compromises our morals and taints our motives. The falling out does not give an individual the right to release information that was entrusted to them in confidentiality.  Look at Saul and David.
Talking about the leader or spouse behind their backs, or about their personal information or weaknesses after walking away from that relationship is a serious lack of loyalty.
If one's service is not dedicated, if there is no commitment and if a person is not walking in service to God nor in holiness, they are not loyal to God.
A major part of the Body of Christ is not functioning in loyalty to God. The world, and sadly many in Christendom, don't show loyalty unless loyalty is shown to them. That means they won't show loyalty unless they can directly derive the benefits of the relationship or connection.
We need to take a very serious look at the word LOYALTY particularly in this season.