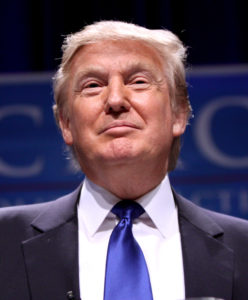 Photo: Donald Trump by Gage Skidmore
WARNING AND WORD OF THE LORD TO THE LEADERS
February 14, 2017
TBN is heading for a fall and there will be serious exposure.   Many will be surprised.  The exposure will come because too many Christians are looking up to them.  Many will fail.
Pray For Pat Robertson
The great deception is coming.   But the faithful ones who focus on Jesus, they will know that there is a shift in Christendom and that they will prepare themselves.  It is happening now the people who are predestined for heaven are making up their jewels – preparing themselves for the return of Christ.
When we see this in the churches we are not to allow their behavior to get us frustrated, but pray for them, love them.  Many are going to find themselves at places and indulge in un-holiness.
I look for a man to make up the edges!  The world is sinking into depravity and degradation!  Their sins have come up before me!  The stench of their sins.  Those that I have called and anointed have gone a-whoring!
Papers going across the world with the headlines – warn the nations for there will be interpreters who will interpret my word for I am the lord thy God that speaketh.  Because I am weary of their doings.
The Lord says as some leave the services they are gone with men or women and their wives don't know where they are, only to face the media that their husbands are caught up in sinful acts.
Leaders are chose to lead the young middle aged and old to me but they have compromised and are gone a-whoring!  Just like god told the prophet to put his girdle in the water, let it rot, that is the lifestyle they are living – some of those that call my name.   But I shall raise up men and women that will run with my message.  Prophets in the name of Jesus Christ… I will stretch forth my hand over some countries communities and they will disappear, they will be no more.  Lands and crops will perish be warned.
We must continually pray for the USA and its President that those advisors around him will not lead him to cause His people to suffer.  There are 2 agendas one of which is to bring in billionaires to the forefront and push the poor aside.  The programs that they are pushing are supposed to benefit the rich.
They want to push aside the poor and the Lord will not stand for that.  Any country that refuses to take care of the poor they will suffer.  They will have continual disasters, threats from other nations and many cities and towns will reach a stage where they will be uninhabitable, because they have turned their backs on the Lord!
Another worldwide disturbance is coming and many countries who were accustomed to helping, giving alms and they and their companies will be cut off.  Countries will be hoarding.  Communications will be disrupted.  Some countries will want to cease communications with each other.
Yet in all of this there will be a massive worldwide evangelism and the great outpouring of the Holy Spirit of God and those who repent will have His favor.